Blog
My Home Is My Castle: Part 3
30 March 2021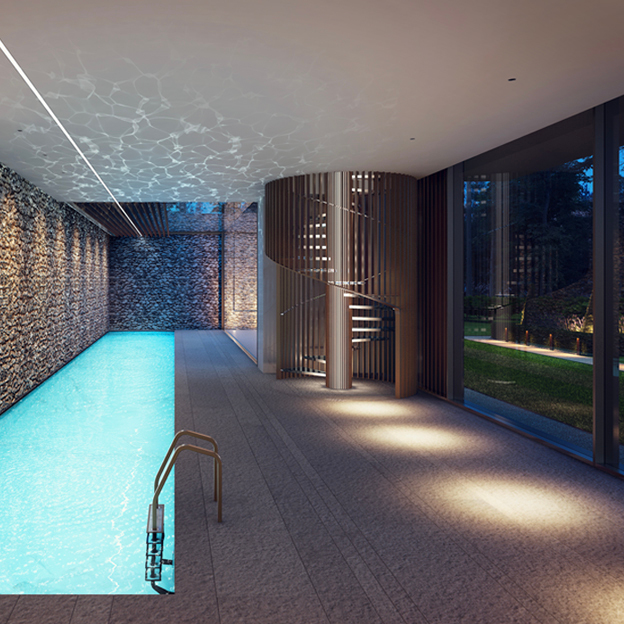 Functionality and Flexibility of Space. 'The Grounds' residence (3 of 3)
How can you make sure that a home can give value to its owner now and in years to come? Accommodating the natural change of life situations; families growing, empty nesters, social events, intimate events.
Such a home would need to expand and contract, to serve multiple needs in unison and provide open social spaces and smaller private spaces.
We have created The Grounds House to do this.
The home is sizeable enough to accommodate a large family with spaces that are generous and fun to live in, whilst still offering more intimate spaces when needed. To find this balance within interior architecture is always a key part of the final success and truly tested by the inhabitants.
The idea here is that you can live a single lifestyle, then enjoy years of family life and equally embrace the times when children have left the nest, all under one roof.
The ground floor layout offers a kitchen dining area, that allows for great parties next to the water of the indoor pool, as well as the water of the terrace pond outside. This provides a seamless connection of cooking with friends and enjoying sunsets of a warm summers evening on the terrace.
The double height saloon is a great family space where you can cook and still take part in family activities. A second saloon and games room are there to have some time out or mingle with friends away from family life. The ground floor office makes working from home convenient if not desirable, being large enough to host business partners.
The upper floor offers bedroom suits that are inviting, light infused and with beautiful views of the gardens and the surrounding landscape. They really are spaces to find peace and re-energise. All rooms have their own bathrooms and dressing areas. The gallery looking down onto the main saloon has a space for a pool table or table tennis and provides for older children to socialise.
The lower ground offers a world in itself. There are of course the technical rooms, laundry and storage facilities a building like this needs. But further then that a generous void allows light flooding into an area that is pretty unique at this moment.
Everything is designed so the occupants can enjoy life whilst the house is constantly working hard to provide the physical space needed.
So whether you have a family and enjoy pool parties, garden games and watching movies, or are retired and enjoy dinner parties, hosting social events and quiet spaces, The Grounds House makes it happen.
Addressing the needs of modern living, while planning for flexibility for future living, The Grounds House is a personal investment into the quality of life.